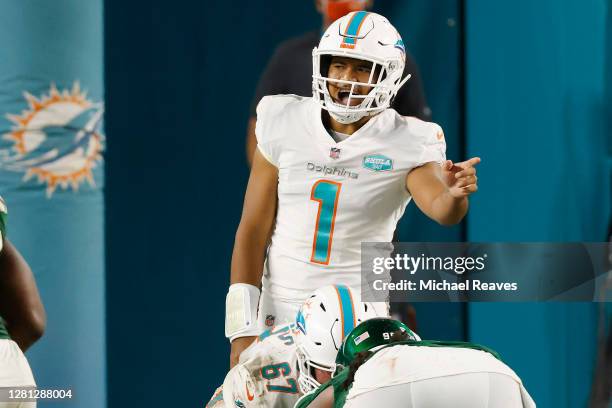 ---
Tua breakout imminent . Why Tagovailoa is the best sleeper in Superflex Fantasy Football.
---
You heard it here first folks, the Tua breakout is upon us. Previous starter, Ryan Fitzpatrick "Fitzmagic", recently took to Twitter and other media outlets to verbalize his angst. "My heart just hurt all day," Fitzpatrick said. "It was heartbreaking for me". He made this statement following his week 7 benching, which apparently came as a complete shock.  It was no secret to Fitzpatrick, or anyone else, that it wasn't of matter of if, but when this would happen.
Fitzpatrick has done well recently considering his history of frustrating play. He has also played well this season but was never meant to be the team's long-term solution.
He has been on a bit of a hot streak as of late, bringing the Dolphins to a 3-3 record and 2nd place in the NFC East. The fact that the coaching staff is benching Fitzpatrick when he's performing as well as he is, says a lot about their confidence in Tagovailoa as their guy.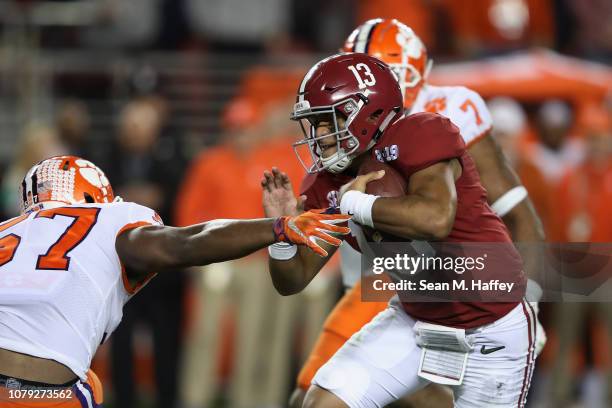 College
Tua Tagovailoa, the prodigy player from the University of Alabama, shocked the college world in 2018 with unbelievable quarterback play.
In 2018, Tagovailoa threw 43 touchdowns for 3966 and only 6 interceptions. He added an additional 5 touchdowns and 190 yards on the ground. He was the recipient of the 2018 Consensus All-American, 2018 Maxwell Award, 2018 SEC Offensive Player of the Year, and 2018 Walter Camp Player of the Year Award. This placed him in heavy debate for the best player in the country.
He really excelled in Steve Sarkisian's offensive scheme at Alabama. His arm strength, quick decision making, mobility, and football IQ, should all serve him well at the professional level. He has a lot to learn, but he's up for the challenge. What you should expect from Tagovailoa initially is similar production to Justin Herbert with a much higher ceiling. The video below shows some of his greatest moments at Alabama:
In 2019, Tagovailoa suffered a dislocated hip and a posterior wall fracture against Mississippi State. The injury ended his college career and was thought to hurt his NFL draft stock. Fortunately, Miami grabbed him at number 5 overall in the 2020 NFL rookie draft.
Tua Tagovailoa making his NFL debut😤

— PFF (@PFF) October 18, 2020
A New Era in Miami
As Miami's week 7 bye approaches, Tagovailoa has been named starting quarterback for week 8. The time is now to grab him. With a current ADP of 286 (QB 25), the hype has died down just enough to get him at a price you won't lose sleep over. My current prediction is that Tua is a guy you can trust on a weekly basis in superflex out of the gate. His athletic ability, accuracy, and his ability to read defenses, put him near the top of the QB charts for me. You can count on him to find a way to put points on the board. Miami is counting on a Tua breakout in a big way.
I would gladly give up a 2021 early to mid, 1st round rookie draft pick for him. I would also offer a Justin Herbert or Baker Mayfield type quarterback or an aging established quarterback. You can always add to or take away from these options as well. The key is being a good negotiator and playing strategically. What you offer really depends more on your league managers and the culture than it does the player in most cases.
Worry Not
The good news for those in the market for a QB, Tua is facing the Los Angeles Rams defense led by Aaron Donald in his NFL debut. This is a huge test for him and will probably skew his performance and stats a bit, leading the more inexperienced fantasy managers to lose hope. That is when it is your time to capitalize and put in your offer. Buy Buy Buy! 
Timing is of the essence in fantasy football. Good quarterbacks are extremely hard to obtain if you don't draft them, or they are just ridiculously overvalued and overpriced. The best thing to do is act now or hope for a bad game that kills their confidence in him in the long run.  I said it was a dice roll, but if I am a betting man, I'm going all in on Tua Tagovailoa's future as a superflex beast.
Final Thoughts
Tua is a guy that you don't need convincing to acquire in a Superflex Format. It is hard to make such claims on a guy that has played only a few garbage snaps in the NFL, but sometimes you just know. Russell Wilson has been running through my mind constantly as a good comparison. I don't know anyone that doesn't want to see a Tua breakout in Miami. Fans and analysts alike love a hot new success story. Tagovailoa is a do it all player that has every measurable physical and mental attribute to reach or surpass Wilson's success. The secret is out , it is Tua's time to shine.
Be sure to follow me on Twitter @TheMeanDean10 to talk about anything and everything regarding Dynasty/Redraft fantasy football. Also, be sure to follow @DynastyFBDigest and @IDPGuys for expert advice on all the Hot Topics in Fantasy.