---
The L.A. Chargers have some talented fantasy players on their offense.  In this article I have ordered them into tiers to clearly show who to target
---
I stumbled upon a surprising fact when writing this article. Following Ken Whisenhunt's decision to withdraw from the race for the Georgia Tech role, the Chargers join the Saints and Pats as one of only 3 teams with the same Offensive Co-ordinator from the 2018 season. That seems remarkable to me.
In a fantasy sense, that continuity affords us an additional degree of confidence in how players may be used. There is no change in scheme to muddy the waters, no adjustments in play-calling duties to consider. Sure, there are some player personnel changes as always, but even in that sense the Chargers hope to have more continuity than most. Despite Melvin Gordon's attempt to stir things up!
Let's take a look at the Chargers offensive tiers.
Tier 1 – Draft Targets
RB Melvin Gordon
2018 stats:  175 carries for 885 yards (5.1 avg), 10 Rushing TD's.  50 receptions for 490 yards and 4 receiving TD's in 12 games.
Very few would rank Gordon above the likes of Barkley, Elliott, McCaffrey or Kamara. However, Gordon absolutely belongs in the discussion as the next best back on that list, and it would not surprise to see him competing with those guys above him for a higher spot. We currently have him ranked as the no.5 back over at the Dynasty Football Digest Dynasty Rankings.
I've heard it mentioned that the Chargers run the ball more than they used to. That statement is not wholly untrue but it is misleading without context. The Chargers actually ran the ball less in 2018 than they did in 2017. However, they had less offensive plays overall. Relative to the total number of total offensive plays, run attempts decreased by 6% from 2017 while pass attempts decreased by 9%.
What matters more than a 3% swing in run/pass ratios is the fact that the Chargers offense is still high-powered, high scoring and it leans on the run game in the red zone. Gordon gets plenty of red zone touches and is very efficient with them. In 2018 the Chargers led the NFL in both red zone rush attempts and red zone rushing TDs. Gordon, as the workhorse, was obviously the main beneficiary.
Gordon's O line has been a carousel of average players over the years, yet his 2018 YPC average increased to 5.1, a full 1.2 more yards than he managed in 2017. Importantly, most of the 2018 O line group return for 2019. It is also hoped that former 2nd round pick Forrest Lamp can win a job and help solidify what is still a mediocre unit overall.
One of the biggest question marks is Gordon's health. He has missed multiple games in 3 of his 4 years in the league and routinely shows up on the injury report.
As I sit writing this article, a Gordon-related alert pops up:
Los Angeles running back Melvin Gordon has informed the Chargers that unless he receives a new contract, he will not report to training camp and he will demand a trade, his agent Fletcher Smith told ESPN.

— Adam Schefter (@AdamSchefter) July 11, 2019
Schefter had more to add on this later the same day, essentially reiterating the point in the tweet above, adding a little more background:
More on Los Angeles running back Melvin Gordon informing the Chargers that unless he receives a new contract, he will not report to training camp and will demand a trade:https://t.co/EakhJBGHSc

— Adam Schefter (@AdamSchefter) July 11, 2019
This could change things.
My immediate thought is that Gordon's value is at or near its highest if he remains with the Chargers. The Chargers could re-sign him, but they have other, arguably more important contracts to address first. We know they have made offers that are below Gordon's asking price, but in terms of what they plan to do from here, we just don't know. Until we hear from the Chargers anything else in the meantime is purely conjecture. All we can do is wait for news of the team's plans.
If you are a Gordon owner, pray he remains where he is or at the least joins a team with a similarly strong offense which uses him as much as the Chargers do.
2019 Projection (assuming he stays with the team):  256 carries, 1196 yards, 10 rushing TDs along with 55 receptions for 510 yards and 4 TDs.
2018 Stats: 97 receptions for 1,196 yards and 6 TDs.  9 rush attempts, 75 yards.
Much like Gordon, Allen is often left out of most conversations regarding elite performers at his position. Also like Gordon, part of this may be due to perceptions that he is injury-prone. For me, Allen is an easy candidate for tier 1 of the Chargers Offensive Tiers.
Allen made a splash in his rookie year in 2013, going over 1000 yards and scoring 8 TD's. He followed up with a solid if unspectacular sophomore campaign before suffering two gruesome injuries in both his 3rd and 4th year in the league.
Impressively, Allen bounced back in style to record what remains his best statistical season, recording 102 receptions for 1,393 yards and 6 TD's in 2017. He followed up with an impressive 2018 performance in which he amassed 97 receptions for 1,196 yards and 6 TDs.
Allen has made a name for himself as one of the premier route-runners in the NFL. This is what allows him to gain separation with ease. Per Next Gen stats, he averaged 2.7 yards of separation per catch, a number which compares favourably with other leading, arguably more athletically-gifted WRs. PFF's Cam Mellor recently named Allen as THE top route-runner in the NFL, awarding him the highest overall grade among WRs for out-breaking routes and a top-six grade on in-breaking routes and slants.
It is possible that Allen's target share could take a slight dip in 2019. Hunter Henry returns from injury. Mike Williams is expected to take a step forward too. Despite this Allen should continue to put up WR1 numbers in PPR leagues as long as Rivers is slinging the rock. He will undoubtedly remain Rivers go-to-guy.
2019 Projections: 90 receptions for 1,110 yards and 7 TDs. 3 rush attempts, 35 yards.
Tier 2 – Depth Players
QB Phillip Rivers
2018 stats: 4,308 yards, 32 TDs to 12 INTs, 68.3% Pass completions.  QB rating of 105.5
Rivers had a very good 2018 season. His 105.5 QB rating matches the highest rating he has ever achieved, he previously reached the exact same grade in 2008 and 2013. His completion percentage was also his best since 2013. He took great care of the ball too, throwing just 6 interceptions through the first 13 games, fumbling only twice all season despite being sacked 14 times more than in 2017.
There are some points which may concern fantasy owners. His 2018 yardage mark of 4,308 marks the second lowest yardage Rivers has achieved since 2012. Part of the reason for this is the aforementioned decrease in total offensive plays, but it does leave questions about whether this is the start of a decline. He will be 38 by the end of the year after all.
The counter to this is that diminishing physical abilities may affect Rivers less than it would other QBs. He has never had a particularly strong arm. He is certainly not the most athletic of QBs. Injuries and durability have not been an issue either, Rivers 208 consecutive starts is 3rd place among QBs and 11th among all players ever.
As we look ahead to the 2019 season, Rivers has every change to put together another impressive campaign. He has a plethora of targets in Keenan Allen, Mike Williams, Hunter Henry and, assuming he remains with the team, Melvin Gordon.
2019 stat projections:  4,399 yards, 31 TDs to 14 INTs, 67.5% pass completion.
TE Hunter Henry
2018 stats:  N/A.  Missed the season due to injury.
It is somewhat of a surprise to me that Henry divides the fantasy community as much as he does. The gap between Kelce, Ertz, Kittle and the rest of the TE's is sizable, that much we all agree on. I'm yet to see a solid reason why Hunter doesn't have as good a chance as any to compete in the chasing group.
Here are some interesting statistics which back my point.
In 2017 season Henry helped Rivers to a 127 QBR when he was targeted, good enough for 5th in the league. Henry had the 7th overall catch percentage of ANY position. He was tied for 2nd in YAC amongst all TEs. Prior to the injury, he was playing as well as any TE in the league. This is not just my opinion: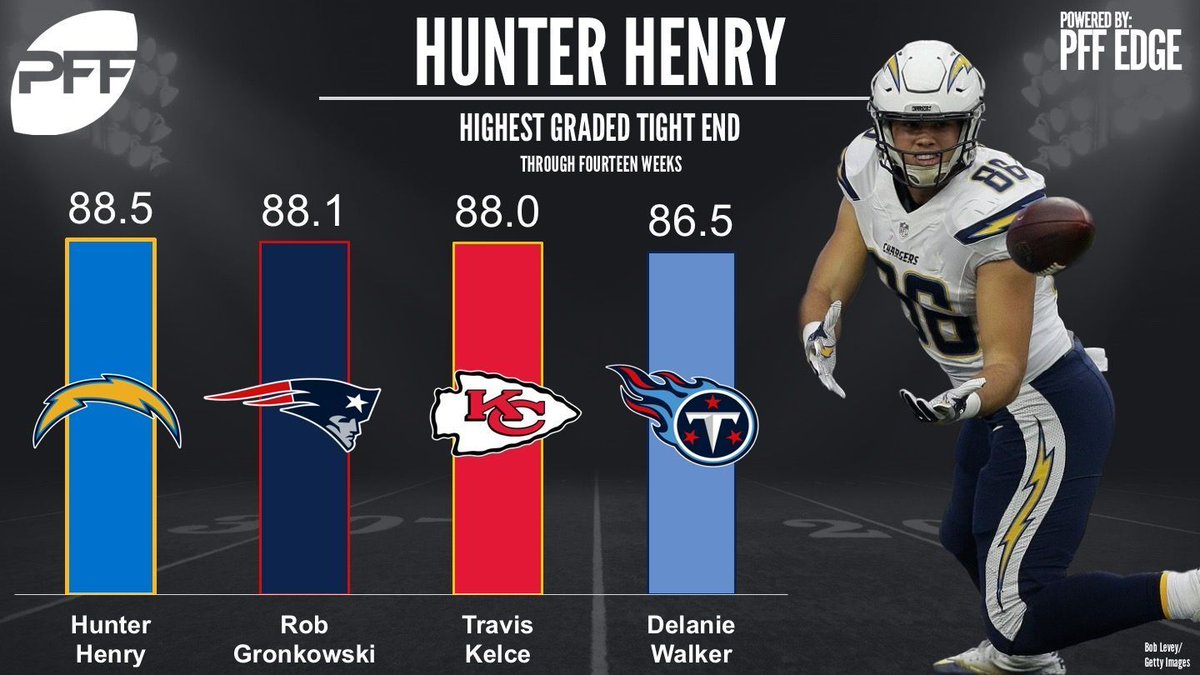 For the first time in his short career Henry now has no real competition for the Chargers TE spot, unlike Howard (Brate) and Ebron (Doyle). He also has a QB who is playing as well as he ever has, unlike Engram. Oh, and Henry's QB also happens to hold the all-time NFL record for TD's thrown to a TE.
Here's Henry showing off some wheels:
Philip Rivers goes DEEP…

Hunter Henry hauls it in for SIX! #LACvsNYG pic.twitter.com/TLVpWwMIwY

— NFL (@NFL) October 8, 2017
Admittedly, Henry has quality WR's to share targets with. But can't we say the same for Howard, Hooper, Cook, Njoku?
I am not knocking these other guys. I'm a big fan of many of them, especially Howard. I'm mindful that none of this guarantees Henry will outperform the other contenders. The point I am making is that he has a little more going for him than some give him credit for.
2019 stat projections:  61 receptions, 723 yards, 7 TDs
Tier 3 – Rotation Players
WR Mike Williams
HOW DID MIKE WILLIAMS GET TWO FEET DOWN 😮

(via @NFL) pic.twitter.com/bCcGWU4Tux

— The Lefkoe Show (@LefkoeShow) November 25, 2018
2018 stats:  43 receptions, 664 yards, 10 TDs.  7 rush attempts, 28 yards, 1 TD.
Williams has been trending among fantasy enthusiasts this offseason. Discussion has largely centred around Tyrell William's departure and how it affects Mike Williams and Hunter Henry's predicted output going forward.
Many have pointed out that Williams is unlikely to maintain his TD efficiency. You would have to be very optimistic (and horribly biased) to disagree with this point, he is only the 2nd player ever to score 10+ TDs on fewer than 70 targets after all. However, what is sometimes lost in this point is the credit Williams deserves for managing this feat. He is clearly a red zone favorite of his QB.
With the departure of Tyrell Williams, Mike Williams now becomes the Chargers WR2. The impact to his fantasy value caused by a regression in TD efficiency should be mitigated by an increase in targets, receptions and yards. I don't think it will be enough to make him the low-end fantasy WR1 some are hoping for, his value in fantasy will still be more TD dependent than some of his counterparts. For this reason, fade Williams slightly in PPR leagues but increase his value slightly in best ball formats.
Williams has the ability to be in tier 2 of the Chargers Offensive Tiers. The difficult is projecting who this would be at the expense of.
2019 stat projections:  60 receptions, 799 yards, 8 TDs.  9 rush attempts, 38 yards.
Austin Ekeler can't stop making plays!

(via @NFL)pic.twitter.com/TdXplL7aqh

— PFF (@PFF) October 7, 2018
2018 stats: 106 carries for 554 yards (5.2 avg), 3 rushing TDs. 39 receptions for 404 yards, 3 receiving TDs.
Ekeler is a nice change of pace running back. In fact, he can sometimes come in and look more efficient than Gordon in certain games, as the defense adjusts to the stark difference in his running style. He is generally an underrated back capable of playing well when a starter needs a breather.
A couple of things concern me with Ekeler. Firstly, his value is largely dependent on Gordon's availability. When Gordon is available, Gordon always gets the lions share. Including the postseason, Ekeler surpassed 10 carries in 5 regular season games in 2018. Gordon sat out 3 of those games and was still recovering from injury in a 4th.
Secondly, when more is asked of Ekeler, he doesn't produce as well as he does when coming off the bench. In 3 of those 5 games mentioned above, Ekeler recorded YPC averages of 1.6, 2.6 and 3.5. It is concerning that there is a notable drop-off in his production when asked to be the lead back.
Lastly, Ekeler's concussion towards the end of the season opened the door for 2018 7th round pick Justin Jackson. Jackson had some bad games of his own, notably the games against the Bengals and the Broncos, but 45 of his 50 carries came in the last 6 games of the season. He has momentum. Ekeler owners need to monitor this situation going forward.
If Gordon does leave, and if the Chargers don't bring in another back, then the Chargers backfield would probably feature both Ekeler and Jackson, in much the same way as they were used in the second half of 2018.
2019 stat prediction:  60 rush attempts for 234 yards, 2 rushing TDs.  24 receptions for 195 yards, 1 receiving TD.
Sleepers:
RB Justin Jackson
2018 stats:  50 carries for 206 yards (4.1 avg), 2 rushing TDs.  15 receptions for 135 yards.
The Chargers selected Jackson in the 7th round of the 2018 draft. He was waived in September, signed to the practice squad before being promoted to the active roster a few weeks later.
The Northwestern product barely played until week 12. Gordon sprained his MCL and the Chargers mixed in a little of both Ekeler and Jackson. These two continued to share duties for a few weeks until Ekeler suffered a concussion, meaning Jackson was thrust into the lead back role for the Chiefs game in week 15. Considering his humble beginnings, he acquitted himself reasonably well, helping the Chargers to the narrowest of victories. Jackson scored only his 2nd NFL TD in the game.
If Gordon leaves, Jackson has a chance of finding himself in a RBBC with Ekeler. The smart money, however, is on the Chargers bringing in a veteran. Ajayi perhaps, or one of the 20x 49'ers running backs.
If Gordon doesn't leave, Jackson's value is minimal unless Gordon misses time with an injury.
2019 stat projections:  40 carries for 167 yards, 1 rushing TD.  13 receptions for 95 yards.
---
Thanks for reading.  If you liked my Dynasty Football Digest article, make sure to follow me on Twitter @FFIDP_Jase and let me know if you have any feedback.  While there also follow @IDPGuys and @DynastyFBDigest if you aren't already.  Remember to tune into the weekly IDP Guys podcast and check out the IDP Guys Youtube Channel too.
This article is just one of a series of team-by-team, tier-based articles.  Please check out the others on the IDP Guys and Dynasty Football Digest websites.