BREAKING: Patriots signing QB Cam Newton to one-year deal. (via @Rapsheet) pic.twitter.com/rsIvM0WNnT

— NFL (@NFL) June 29, 2020
---
Cam Newton Explodes Back Onto the Fantasy Scene
---
Last night, Adam Schefter broke the news that Cam Newton and the New England Patriots had reached a "one-year, incentive-laden deal". The contract included a 5-million-dollar base salary with up to 2.5 million in incentives. Newton, now 31 years old, has the chance to reignite his career before hitting the free-agent market in 2021. Can Newton return to his former MVP status, or are his best days behind him? This is the question on everyone's mind at the moment.
Former NFL MVP Cam Newton has reached agreement on a one-year, incentive-laden deal with the New England Patriots, league sources tell @mortreport and me.

Newton now will step into the mix to try to help replace former Patriots' QB Tom Brady.

— Adam Schefter (@AdamSchefter) June 28, 2020
Big Cleats to Fill
A one-year deal is not a grand gesture of confidence or commitment by the New England Patriots front office, but it is the opportunity Cam needs to position himself to land a long term starting job and a big contract once his year is up. Cam will be expected to come in and perform at a high level from day one following the departure of Tom Brady. Brady played 20 seasons for the Patriots, won 6 Super Bowl's, and is highly regarded as one of, if not the, best quarterbacks of all time.
QB Competition in New England
The Patriots have been claiming all summer that Jarrett Stidham was their guy for the starting position – a claim that no one believed. There were insider reports about New England's meetings with Newton, that suggested it wasn't about if they would sign him, but when. What does the signing mean for Stidham? It means there will be some QB competition for the starting position for week one. Unfortunately, there is very little chance that Stidham will be able to outperform the former league MVP. When Cam is firing on all cylinders, he is electric on the field. Stidham has almost zero experience in the NFL, which means he will take a back seat to Newton until his contract is up, or an injury occurs.
*Note: Brian Hoyer is 3rd on the depth chart and not worth considering. He has been a backup most of his career. In 11 seasons, he has changed teams 10 times (3 of which were with the NEP).
So which Cam Newton will the Patriots get?
In 2015, Cam Newton led the Panthers to a 15-1 record and an appearance in Super Bowl 50 against the Denver Broncos. They lost 10-24 but proved that with Cam under center, they could make it to the Big Game. This was the season that he was voted NFL MVP, becoming the 2nd African American QB to win the honor (Steve McNair was the 1st), and putting himself in a different class of NFL quarterback. Newton followed this season up with a huge regression in stats. He threw only 19 TDs with 14 interceptions and posted a 6-8 record. 2017-18 he delivered reasonably productive but underwhelming results. At the end of the 2018 season, he injured his shoulder. He followed that with a 2019 foot injury, landing him on the IR, ending his season after just two games.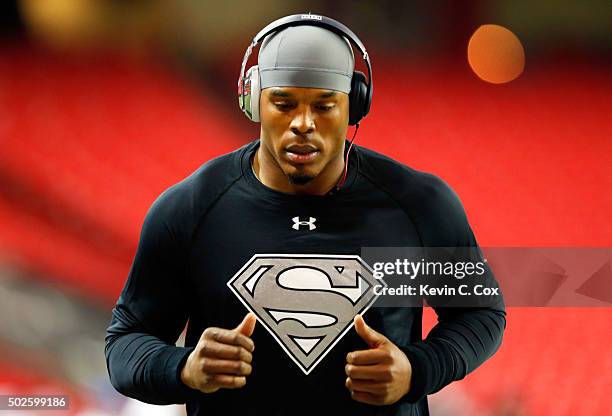 Fantasy Impact
As soon as the news broke the evening of 6/28, the waiver wires were on fire. Everyone that lacked the foresight to roster Newton, and did not draft a solid QB1, are rushing to add him now. In one-QB redraft leagues, he provides an upgrade to teams that waited on drafting their starting QB until later rounds. In superflex redraft formats and newly founded dynasty leagues, picking up Newton is a strong play. Even if you do not necessarily plan to put him in your line up, he provides good trade value. If he plays well this season, his value will skyrocket moving into the summer of 2021.
Cam's trade value now probably sits at a 2nd round rookie pick in superflex, and a late 2nd or 3rd in one-QB leagues.
Cam will average around 20-22 PPG, with two-three 30 point games mixed in. His current ADP is 171 (13.08). If he can move the ball with his feet and get into the endzone, it will definitely help add to his value. He is worth taking a chance on, but I wouldn't overpay for him at this point. The 2020 season will help paint a better picture of what a 31-year-old Cam Newton will look like moving forward. He is still young enough to rebound and put up huge numbers if Edelman, Sanu, Harry and the gang can show up and ball out.
My 2020 Projection: 280 completions for 3226 yards, 20 passing touchdowns, 5 rushing touchdowns, and 14 interceptions.
Last Thoughts
Newton signing with the Patriots gives him the opportunity he needs for a big comeback in the NFL. When healthy, he is strong, fast, with good decision-making skills, the mobility to move outside of the pocket and move the sticks. Keep in mind that the Patriots staff are still stating there will be a QB competition between Newton and Stidham. Probably more of a formality than an actual contest. Either way, I believe 2020 will be the year that Cam Newton positions himself for a big contract in 2021.
---
You can follow me on Twitter @TheMeanDean10 to talk about anything regarding fantasy football. Also, be sure to follow @DynastyFBDigest and @IDPGuys for everything fantasy football related.