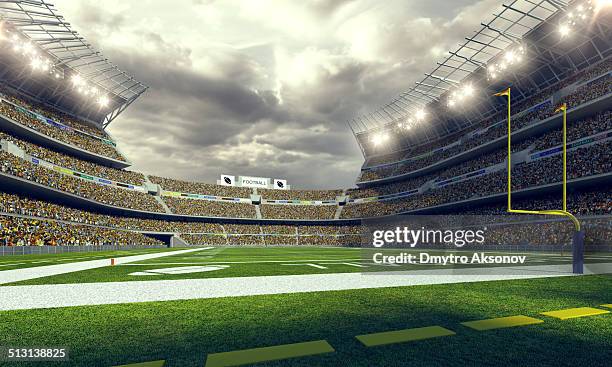 ---
A preview of NFC East- 2nd Year Outcomes. The Eagles sat on top of the NFC East in 2019 with a 9-7 record. Can they build on their success in 2020, or will a new division leader be crowned?
---
Our next stop on the journey across the National Football League (NFL), is the NFC East- 2nd year outcomes. It is an exciting division filled with talent, consisting of the Dallas Cowboys, Philadelphia Eagles, New York Giants, and (formerly) Washington Redskins (now Washington Football Team). I expect to see big things from the four guys in this group, both in the upcoming season and throughout their careers.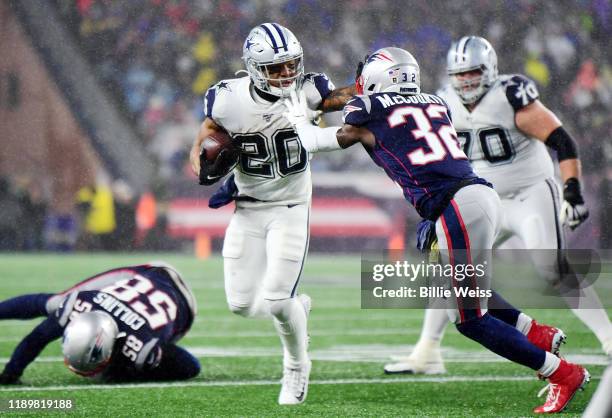 If Tony Pollard proved anything last year, it is that he has the potential to be a productive running back in the National Football League. Unfortunately for him, his current team situation has him positioned behind one of the best running backs in the league in Ezekiel Elliott. Pollard's stats at first glance were not wowing, but when you consider he only had 86 rushing attempts and 20 passing targets, it puts his numbers into perspective.
Opportunist
Through 15 games, Pollard rushed 86 times for 455 yards and 2 touchdowns. He added 107 yards receiving and 1 touchdown turning 20 targets into 15 receptions. He averaged 5.3 yards per attempt, but with the low volume of attempts, it is difficult to use this metric as an indicator of future production. Pollard scored 89.2 points in Points Per Reception (PPR) and 74.2 points in Standard format. For a rookie in a back-up position, he turned his opportunities into a few fantasy relevant games. His current average draft position (ADP) is 190 making him a low risk coin-flip for your bench.
Week 3, Pollard posted his first 100 yard plus game, against a weak Miami defense. He had 13 attempts which translated into 103 rushing yards, and 1 touchdown. He added another 25 yards receiving, catching 3 passes of 3 targets. These stats translated to 18.8 (standard) and 21.8 (PPR). Week 15 against the Rams, Pollard delivered another stat line over 100 yards. He managed to gain 131 yards rushing off 12 attempts (10.9 yards per attempt) and 1 touchdown. These stats translated to 20.3 (standard) and 22.3 (PPR).
Barring an Elliott injury, 2020 is going to look very similar to 2019 for Tony Pollard. He is likely going to be used more in the passing game than rushing. There is a good chance his stats could increase but not enough to make him fantasy relevant. In redraft leagues, he is a decent bench player on larger rosters, but otherwise better left on the waiver wire. Pollard is worth drafting as a handcuff to Elliott if you end up with him on your roster.
For dynasty leagues, now is the time to buy if you have any interest.  He is currently a hold unless an Elliott manager comes to you with a value offer. It will be interesting to see how Pollard performs when his opportunity for a bigger role arrives. After analyzing his first-year performance, I believe that more attempts and targets will equate to many more 20 point + games for Tony Pollard.
 My prediction for Tony Pollard's NFC East – 2nd year totals in 2020 (16 Games): 72 Attempts for 367 yards, 1 Touchdown and 32 Targets, 25 Receptions for 152 yards, 2 Touchdowns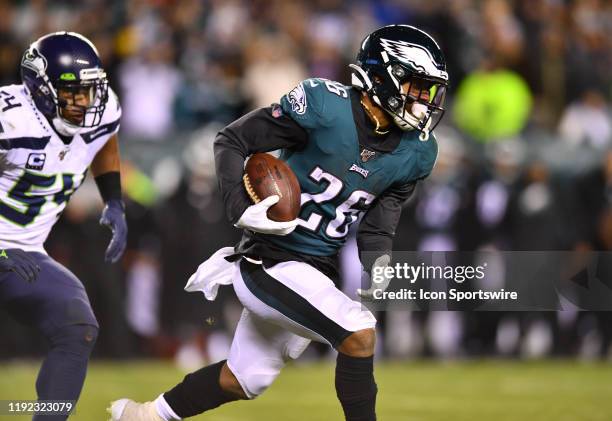 Sanders had the type of rookie season that you can get excited about moving forward. He finished the season as the RB15 in standard (STD) formats with 168.7 total points  (standard), and a 10.5 per game average over 16 games. In points per reception (PPR) formats, he posted 218.7 points for an average of 13.7 points per game. Sanders' current average draft position (ADP)  sits at 12.50, making him a top ten running back off the board.
Sanders is a dual threat running back, that possesses the attributes you want in a player at the professional level. He is a power runner with great feet that allow him to make quick cuts to evade would-be tacklers in tight spaces. His vision is above average and a great compliment to his running style. He attacks gaps without hesitation and quickly makes decisions based off the defensive scheme and isn't afraid to lower his pads and run through defenders.
Covid-19 has a lot of analysts/writers a little unsettled with the upcoming season. Predicting player performance is challenging considering all the opt-outs and time missed due to contracting the virus. That is not going to slow us down here at Dynasty Football Digest. I am predicting a big second year for Miles (Boobie) Sanders.
Big Year Coming?
Out of 1067 plays last season (2019), the Eagles ran the ball 454 times. This equates to a 42.5 run %, which puts them slightly above the NFL median. Sanders was used in 179 of those rushing attempts. Jordan Howard (now in Miami) was the next in attempts at 119. Some of that work will go to Boston Scott, but the majority will likely be distributed to Sanders. He also has the added advantage of being a competent receiver out of the backfield as well.
My prediction for Miles Sanders' NFC East – 2nd year totals in 2020 (16 Games): 202 Attempts for 909 yards, 5 Touchdowns and 58 Targets, 46 Receptions for 455 yards, 3 Touchdowns.
I believe it is fair to say that the sports world was stunned when the Giants selected Daniel Jones in the 1st round (6 overall) during the 2019 rookie draft. The only quarterback drafted before him was Kyler Murray by the Arizona Cardinals who went 1st overall. Let that sink in. Jones was the literal definition of a boom or bust player in the 2019 season. Jones' first taste of action in the NFL left a bad taste in his and everyone else's mouth. During his first and only drive, he fumbled the ball on a 5-yard scramble ending his opportunity to silence critics and the Giants's chance for a comeback.
His next opportunity came in week 3, against the Tampa Bay Buccaneers. Jones did not disappoint in this game. He completed 23 of 36 pass attempts for 336 yards and 2 touchdowns and added 2 more touchdowns on the ground on 4 rushing attempts. Jones scored 34.24 fantasy points that week and blew up on the waiver wire in redraft formats.
Consistently Inconsistent
Unfortunately for Jones, his next three weeks got worse and worse. His weaknesses were put on full display against the Redskins, Vikings, and Patriots weeks 4-6. During that span, he completed 59 of 100 passes for 568 yards and 3 touchdowns passing/ 0 rushing.  He posted 12.3, 10.48, and 5.24 fantasy points those 3 weeks. Week 8, he rebounded against the Detroit Lions completing 28 of 41 passes for 322 yards and passing 4 touchdowns. His best performance came in week 16 against the Redskins. He threw for 352 yards and 5 touchdowns (0 interceptions), resulting in 35.28 fantasy points.
Daniel Jones has professional level attributes at his position but currently lacks the consistency needed to be a reliable option in fantasy. I really do not like him as a QB1 in 1QB formats or QB2 in superflex, because you never know which Daniel Jones you're going to get. Projecting his performance is nearly impossible week to week. He obviously has a great ceiling but also a very low floor. If he can put together a strong sophomore campaign, he may provide the world with some evidence of what the Giants saw in him leading into the 2019 rookie draft. I, however, suspect 2020 to be another season of highs and lows for Daniel Jones.
 My prediction for Daniel Jones' NFC East – 2nd year totals in 2020 (16 Games): 545 Attempts, 339 Completions, 3,687 yards, 29 Passing Touchdowns/ 3 Rushing.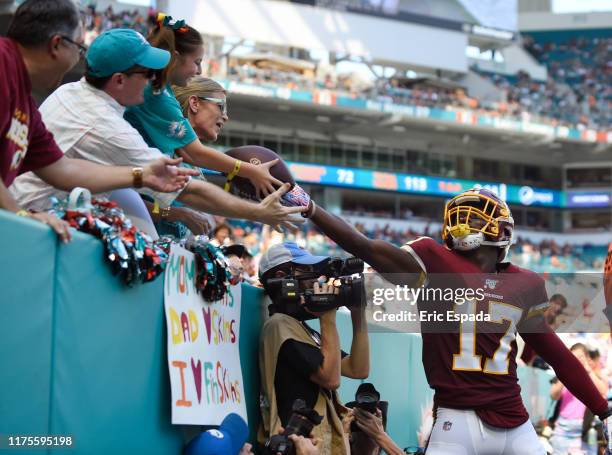 Now, here is a wide receiver to get excited about. "Scary" Terry was selected No. 76 overall in the 3rd round of the 2019 draft. The Ohio State product shined in 2019 on a Redskins' team that was otherwise very dull, and at times, painful to watch. Their offense has been commented on as a "catastrophe" and is not that far from the truth. The Redskins' quarterback situation is unresolved at best. Dwayne Haskins has not been able to perform as a starting QB for their team.
In 2019, he played in 9 games (7 of which he started) and threw 7 touchdowns with 7 interceptions. He did appear to become more accurate near the end of the season, so it is hard to determine who will be behind center this season.
Even with the struggles at QB, McLaurin put up the kind of numbers you want to see from a rookie wide receiver. Elite players find a way to be successful regardless of their situation. Deandre Hopkins is a great example of a wide receiver that had a notoriously bad quarterback situation for multiple seasons and still managed to find success. I am not saying McLaurin is a Hopkins level player, but the potential is there.
The Numbers
Through 14 games, McLaurin 58 receptions off 93 targets, for 919 yards, and 7 touchdowns. It is very likely that had he played 16, his rookie year would have been his first 1000+ yard receiving year. He finished the year with 133.9 fantasy points in STD formats and 191.9 in PPR.
Head coach Ron Rivera has been quoted saying, "He reminds me so much of DJ Moore that we had in Carolina". That is a good sign for McLaurin considering Moore saw 135 targets in 15 games his sophomore season. An increase in targets will certainly result in higher numbers across the board for McLaurin. If the Redskins can produce more consistency at the QB position, you are going to witness a huge breakout year for "Scary" Terry in his sophomore campaign.
My prediction for Terry McLaurin's NFC East – 2nd year totals in 2020 (16 Games): 124 Targets, 77 Receptions, 1130 Yards, and 9 Touchdowns.
Final Thoughts
The 2020 National Football League season is going to be one like we've never seen before. It will be a mix of opt-outs and inactives due to illness. It will be a unique but still very exciting season. Players are going to emerge as leaders and reach the next tier of performance and others full of potential, will flame out. The NFC East is a division full of star players, many not covered in this article. I expect the team formerly known as the Redskins, and Giants to build on last season's records and create a more competitive division in 2020.
---
You can follow me on Twitter @TheMeanDean10 to talk about anything regarding fantasy football. Also, be sure to follow @DynastyFBDigest and @IDPGuys for everything fantasy football related.