---
Who will dominate in the NFC West at their position, and who will fall further down the ADP charts to fantasy irrelevance? A look into my 2nd year forecast.
---
Accurately predicting a sophomore campaign for a player can be instrumental to getting over the hump and crushing your dynasty league season. I am going to pick one player from each team, separated by divisions, and spotlight them in a series simply titled, "2nd Year Forecast".  For no reason in particular, we will be starting in the NFC West. Kyler Murray (Cardinals), D.K. Metcalf (Seahawks), Deebo Samuel (49ers), and Darell Henderson Jr. (Rams) will be the players highlighted in this edition.
Kyler Murray- Arizona Cardinals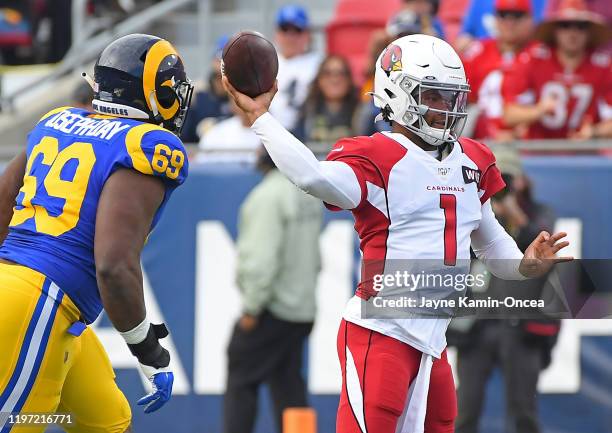 If you read my first article, Deandre Hopkins for David Johnson. Trade disaster or Acquisition Genius?  you will catch on to the fact that I believe in Kyler Murray. He has the best opportunity to top his first-year performance. The 2019, Rookie of the Year, has recently been gifted an All Pro super stud wide receiver in Deandre Hopkins. Kyler finished as QB8 in 2019. His stat line was impressive for a rookie quarterback thrust into new system as the starter. His 2nd year forecast is bright and I see him shining.
According to Fantasydata.com,
Through 16 games he completed 349 passes with 542 attempts for a 64.4 completion percentage (CMP%).
His 20 passing touchdowns (12 interceptions) ranked him 21st for eligible QBs.
His 3722 passing yards was the 15th highest in the league.
The stats that I really love and appreciate are his deep ball CMP% (44.3) and interceptable passes per game (1.1). These stats ranked at 10th and 5th His ability to read defenses on the move and hit deeper passes in tight windows really make him special.
He was also the most sacked quarterback in the league with 48. The fact that Murray could still perform at a high level while constantly under duress, is a very good indication of what his future will hold as well. The kid is a star.
Kyler Murray's good intuition and determination to win lands him the 2nd Year Breakout Player Award. The Cardinal's offensive line is under a constant state of reconstruction but may have finally pieced together a solid squad. The addition of offensive tackle Josh Jones in the 3rd round, is a huge bargain for a great player. He will need some coaching but is seemingly a 1st round producer for a 3rd round price.
Prediction for Kyler Murray in 2020 (16 Games): 340 Completions, 498 Attempts, 68.2 CMP%, 3,820 Passing Yards, 27 Touchdowns, 15 Interceptions.
D.K. Metcalf- Seattle Seahawks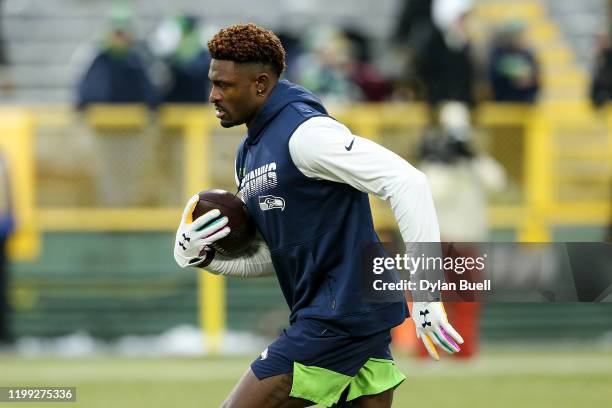 At 6'4", 230 pounds, defensive backs really struggled with a rookie that just powered his way through them. In 15 games, he managed 58 receptions off 100 targets. The fact that his target share was so high, sums up how Russell Wilson and the coaches feel about the guy. It seems like he earned their trust and respect early on in training camp last season and it translated well into opportunities in the season.
D.K. Metcalf (DK) is another guy that I have high hopes for entering his sophomore year in the National Football League (NFL). I don't think he will reach elite status yet, but he finished the season with 900 yards and 7 touchdowns in 15 games. This is an achievement considering the Seattle Seahawks run-first mentality. The next thing to consider when predicting Metcalf's 2nd year outcome is the wide receiver depth in Seattle. The Seahawks brought in Phillip Dorsett from New England in the off-season as a backup for Tyler Lockett or WR3, but beyond that, the position is scarce for talent. Davie Moore, John Ursua, and Freddie Swain are next in line, should injury or circumstance affect the former three mentioned.
The signing of Greg Olsen to a one-year deal, should play a factor into target dispersal as well. Olsen has had a history of injuries as his age increased and Will Dissly has proven he has potential as a starter at the position, so this could be a temporary situation. Olsen will be a great mentor for Dissly and the rest of the offense, if nothing else, as the season progresses.
The good news for Metcalf is that he is built like a tight end and has proven himself to be a capable touchdown option. Year two will be the first year  Metcalf goes over 1,000 yards receiving. His targets should not go up very much, but his receptions should. Touchdowns will either stay the same at 7, or regress slightly with a healthy tight end talent on the field. DK Metcalf is my candidate for the Okayest Wide Receiver Award.
Prediction for DK Metcalf in 2020 (16 Games): 104 Targets, 69 Receptions, 1028 Yards, 6 Touchdowns.
Deebo Samuel- San Francisco 49ers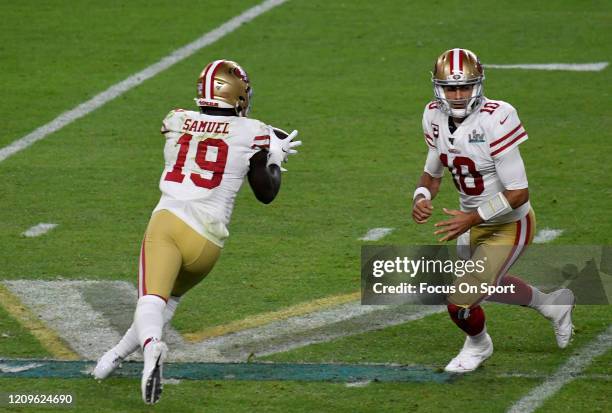 The situation with Deebo Samuel is a little more complex to evaluate. He played 15 games, started 11, and managed 57 receptions off 81 targets. The concerning stat to me is down that stretch, he also had 9 drops (11.1 drop %). That ranked him 76th in the league among eligible receivers.  Ball focus and body placement are coachable attributes, but they seem to come instinctively for elite wide receivers in the NFL. Deebo does seem to lose focus on catching the ball when he is in a contested catch situation. It is obvious that he is more concerned with taking a hit, or his next move, before securing the ball.
Things are not all bad with him though. His receptions netted 802 yards and 3 touchdowns. These stats are above average for a rookie and if he makes the best of his time on the field, we could see him increase in many statistical categories relevant to fantasy.
He is a threat to score anytime he catches the ball, a great route runner, and consistently creates separation with defenders. The downside is, if he continues to be a guy with trouble securing the catch, he could be benched as fast as he was started.  He has the potential to be a fantasy stud, but I am not sold on him yet. He is on a run-heavy 49ers offense and Kittle seems to be Jimmy Garoppolo's number one guy. Samuel's durability has also been tested with the results of multiple strains and fractures.
After the 2019 draft, there were articles making comparisons of him to Devante Adams. Even then, those were some really high expectations. I see him as a slightly larger Golden Tate. In my opinion, Deebo Samuel is a hold for now regardless of the roster size. For the uncertainties listed and the potential to miss games due to injury, Deebo Samuel is taking the Sophomore Slump Award.
Prediction for Deebo Samuel in 2020 (Projected 14 regular season games): 74 Targets, 49 Receptions, 662 yards, 5 Touchdowns.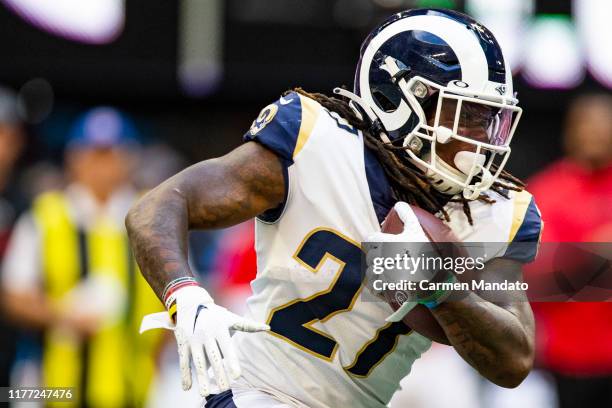 The future is uncertain for Henderson Jr, making his 2nd year forecast a bit of a challenge to predict accurately. 2019 was supposed to be an introduction to a running back with the skill-set and measurables to be a feature back in the NFL. Unfortunately, he spent most of the season on the sideline and his best game came in week 8. He rushed for 49 yards on 11 attempts (4.5 yards per carry) and added 20 yards receiving. Before the draft, it seemed that 2020 he would take on a more substantial role in the backfield. That chatter was silenced when the Rams drafted Cam Akers in the 2nd round (52 overall).
There is light at the end of the tunnel though. First, his current ADP sits at 223 making him RB48. He is probably as cheap as he will ever be if he starts to climb the charts.  Second, as fast and good of a runner that Akers is, he also has ball security issues. He lost 10 fumbles in college and 10 more in high school. Professional level coaches have very little patience for lost possessions, so anything is possible.
Henderson is currently listed behind Akers on multiple site's depth charts. Malcom Brown is also in the mix, so a three-way battle for the top spot is a very good possibility. Expect the unexpected in Los Angeles. This season, Darrell Henderson is the recipient of the Mr. Irrelevant Award. His future is promising though, that is undeniable.
Prediction for Darrell Henderson Jr. in 2020 (16 Games): 95 Attempts, 418 Yards, 17 Receptions, 105 yards, 4 Total Touchdowns.
Final Thoughts
So, there it is. The conclusion to an exciting beginning across the country. Next stop, the NFC East, for what should be a tremendous experience and another promising 2nd year forecast. There is a ton of potential in the division, and it should provide some must read material.
---
You can follow me on Twitter @TheMeanDean10 to talk about anything regarding fantasy football. Also, be sure to follow @DynastyFBDigest and @IDPGuys for everything fantasy football related.