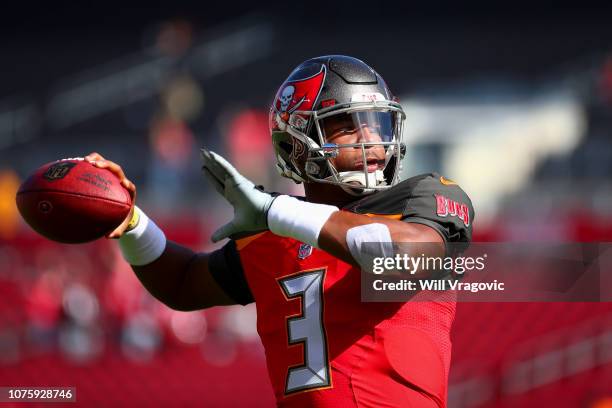 ---
Jameis Winston and Jimmy Garoppolo will out shine their previous seasons and have a breakout in 2019.
---
Jameis Winston
Winston is coming off a season he would probably like to forget. In the off-season, Winston ended up getting a 3-game suspension. Everyone wanted to write-off Winston and I don't blame them. He was drafted to be the leader of a franchise and has been a part of the most controversy.
It seemed that no one really knew which QB was going to start for Tampa Bay week to week. Starting in only 9 games in the 2018 season, Winston threw for 2,992 yds/ 19 tds/ 14 ints. These are not the numbers that we expected to get from him at all. I am here to tell you Jameis is going to have a breakout season in 2019.
Offensive Weapons
The thing that gets me excited is the weapons that Winston has around him. Mike Evans is a lock every season to go over 1,000 yds and is the safety blanket for Winston. Having that big bodied WR will pay off most in the red zone and going up for the jump balls. Winston trusts Evans to go up and get the ball from the defenders.
MIKE. EVANS.

Unbelievable catch! #ATLvsTB #Bucs pic.twitter.com/UP70AsiUrr

— NFL (@NFL) December 19, 2017
Chris Godwin is coming off a solid season with 59 rec/842 yds/7 tds. Godwin was splitting time all season with DeSean Jackson and Adam Humphries. These two players will most likely be gone which will lead to Godwin moving into that 2nd WR spot.
The Winston and Godwin connection grew at the end of the season. In week 17 Godwin came down with 6 receptions for 114 yds and 2 tds. Playing opposite Evans will help Godwin get open more easily to make an impact in 2019.
Perfect.

Jameis Winston. Chris Godwin. Bingo!

📺: FOX #GoBucs pic.twitter.com/jRTBnUrqcW

— NFL (@NFL) December 30, 2018
OJ Howard will play a big role in 2019 for Winston. Howard was playing well before his injury. I expect him to be a threat in the middle of the field and someone who Winston can rely on. I know that Arians hasn't always used his TE,s but I think Howard is too athletic of a player to not be involved.
Fitzpatrick to OJ Howard for a 75-yard TD. Unbelievable.pic.twitter.com/MD4qhfD9iS

— NFL Update (@MySportsUpdate) September 16, 2018
It is not Winston throwing this pass but, it is Howard making a play in the middle of the field and showing his athleticism.
These 3 players will play a key role in Winston having a breakout season in 2019.
Relationship with Bruce Arians
The key to Winston's success will be his relationship with Arians. Bruce Arians is going to bring his high-flying pass offense to the Bucs next season. This fits Winston's gunslinger mentality as he has been north of 3,000 yds in his first 3 seasons. I believe he will get back to throwing over 500+ pass attempts and we will see his yds and td's sky rocket from this season.
In the last two seasons Winston has played for a coach that had no faith in him. He will now have a coach that believes in him and that will help tremendously. Arians has helped grow Ben Roethlisberger, Andrew Luck, Peyton Manning, and Carson Palmer. If Arians can use his QB whispering skills, Winston can get back on track in 2019. The key things Arians will look to improve are Winston's mechanics and reduce his turnovers.
Final Thoughts:
Winston put up some big games in 2018. He proved he has the talent to be a solid Qb in the NFL. In Week 17, Winston completed 22 passes for 345 yds and 4 tds. He has proven he is capable of throwing over 4,000 passing yds in a season. One stat that excites me is his completion percentage. From 2015-2018 he has improved from 58% to 64%.
Now with an offense that will focus on throwing the football, Winston could have a breakout year. It helps that the defense ranked 27th and gave up 29 pts per game in 2018. This will allow Winston to be in shootouts and will give him more opportunities to throw the ball. If Winston can play a full season in 2019 and make the improvements look for him to throw for 4,000+yds and 25+ tds.
Jimmy Garoppolo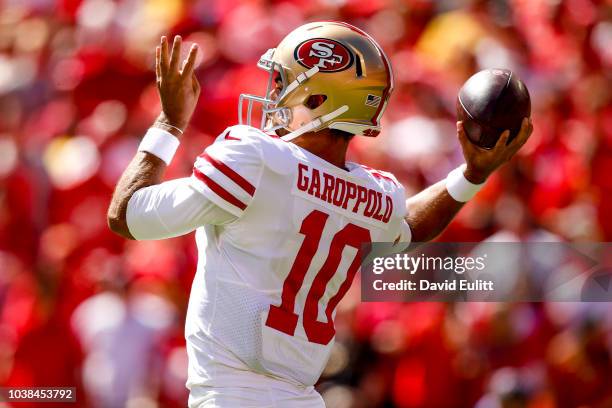 The 2018 season was supposed to be Jimmy Garoppolo's breakout year. He had a great finish to the 2017 season, and he was leading the 49ers to victories. In his 5 starts with the 49ers in 2017 he went 5-0 and threw for 1560 yds/7tds/and 5 ints. The hype for Garoppolo was so high going into 2018.
The 49ers picked up Jerrick Mckinnon in free agency. He would lead the young backfield and could be a nice check down in the pass game. Before the season could get underway, he ended up tearing his ACL.
The bad luck would continue as Garoppolo ended up tearing his ACL just 3 games into the season. This destroyed all the hype but I am ready to bring the hype back! Kyle Shanahan is an offensive guru and will put Garoppolo in great position to break out in 2019!
The Injury
An ACL injury has become a common thing in the NFL. We have seen numerous players fall to this injury and come back strong. With the way technology and surgeries have improved, athletes are able to recover more quickly than ever.
If there is any good to come from Garoppolo's injury it is that it came early in the season allowing him to most likely be ready for the 2019 season. The other positive is this can help him realize he can't take big hits and will need to limit them. Garoppolo will look to rely on his arm more than his legs in the 2019 season.
Offensive Weapons
The biggest weapon that I am excited to see for Garoppolo is George Kittle. Kittle is coming off a massive season with a backup QB. Putting up 88 rec/ 1377 yds/ and 5 tds Kittle broke the record for TE receiving yds. How can you not be excited to see what Garoppolo can do with that kind of talent!
Celebrate the best season by a TE in NFL history by watching @gkittle46's best plays from 2018. pic.twitter.com/JccsROGHiM

— San Francisco 49ers (@49ers) January 3, 2019
The 49er's also drafted Dante Pettis with the 44th overall pick in the 2018 draft. He did miss week 3-9 which hurt his numbers. Pettis put up 27 rec/467 yds/ 5 tds. Weeks 12-15 were when most of his work was done. Moving into next season Pettis will be a key target for Garoppolo when looking to move the ball downfield.
WR/RS Dante Pettis was asked to start at X the last two weeks so Kyle could see what he could handle & Dante responded. He really stepped up with Goodwin & Garçon out & had a NFL Career high game. Stats: 5 Receptions, 129 Yards, 25.8 Avg, 2 TD, 75 Long. @dmainy_13 #Go49ers pic.twitter.com/ezEDrbBMoY

— 49er_Edits (@49er_edits) December 5, 2018
We can't forget that Antonio Brown has said he would love to play for the 49ers. Brown has been one of the most dominant WRs since 2013. Brown has had over 9 touchdowns in each of the past 6 seasons.  If John Lynch can get Brown this off-season, the offense could explode for huge numbers.
Garoppolo would have plenty of targets to spread the ball around. Adding Brown would take stress off of Pettis and Kittle allowing them to play more freely. Having these 3 options to throw to will help Garoppolo have that 2019 breakout season.
Final Thoughts:
Garoppolo has plenty of upside going into the 2019 season. With Shanahan and this group of pass catchers I can see Garoppolo going for 4,000+ yds and 30+tds. If you can get Garoppolo for cheap in your leagues, do it while you can. His value will sky rocket during the 2019 season.